Keyword Ranking Reports
.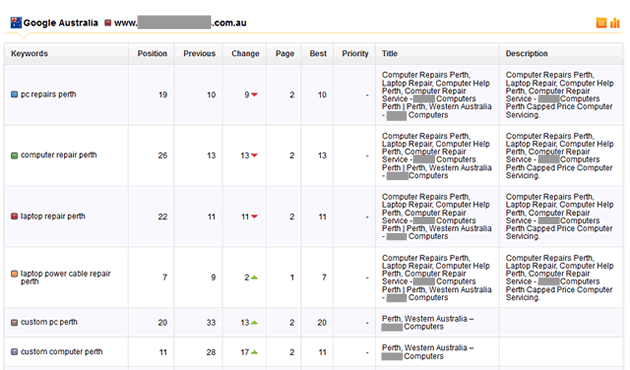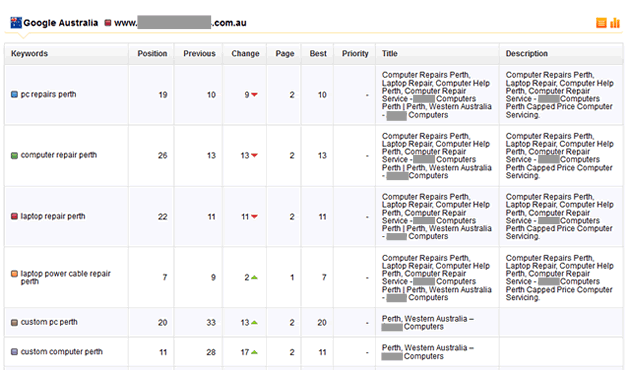 Cyanweb Solutions provide a comprehensive keyword ranking report service so you can keep up to date of your natural rankings in the major search engines.
No more having to search and scan through results to find out where you are listed for your chosen keywords.
Keep informed of the big picture showing where your are and need to be for your business keywork search terms.
We offer keyword ranking reports which are automatically emailed to you either weekly, fortnightly or monthly.
Our keyword monitoring and ranking report packages are as follows:
One-off Report:
$9.90 – up to 50 keyword phrases
Weekly Reports:
$19.95 / month up to 50 keyword phrases
Fortnightly Reports:
$16.50 / month – up to 50 keyword phrases
Monthly Reports:
$9.90 / month – up to 50 keyword phrases
Additional Costs / Options:
$19.95 – have us identify and create your 50 word keyword list for you
$9.90 – modify your already established keyword list
Contact us today with your domain name and keyword list and we will setup your keyword ranking report service ASAP.